2020 Abstracts
Implementation of Outcome Measurement – Case Finnish Spine Register – BCB Medical LTD
Financial Savings for the Hospital Using a Digital PROM System: Case Rheumatoid Arthritis at Helsinki University Hospital in Finland – BCB Medical Ltd
Improving patient outcomes towards more personalized digital solutions: Case Helsinki University Hospital's data and BCB Medical's MyHealth digital PROM analysis – BCB Medical Ltd.
Implementing standardised patient-reported outcomes measures into a population-based electronic personal health record for diabetes – University of Dundee
Improving Non surgical care for Patients with Knee Osteoarthritis (OA) at Swansea Bay University Health Board – Swansea Bay University Health Board
How to prioritize pathologies to integrate a value-based healthcare program? The Collaborative Value Modelling framework – José de Mello Saúde and Instituto Superior Técnico, Universidade de Lisboa (IST-UL) and
USE OF VALUE-BASED-HEALTHCARE METHODOLOGY TO EVALUATE A NOVEL TREATMENT PROTOCOL FOR LOCALIZED PROSTATE CANCER. – Hospital Universitario Cruces, Biocruces Health Research Institute
Setting up the ICHM/DMAE Community in Spain – Novartis Farmacéutica
Feasibility & Impact of Telemonitoring on correct drug Use, complications, and quality of life among patients with Multiple Myeloma (MM). (F-ITUMM-trial)
Working towards optimising care for heart failure patients at Swansea Bay University Health Board – Swansea Bay University Health Board
Implementation of Outcome Measurement at Fortis Heathcare, India – Fortis Healthcare/ Kalinga Institute of Medical Sciences
Improving the Heart Team – Interdisciplinary Care and Integrated Practice Unit – Heart Institute – University of São Paulo Medical School
Value-Based Health Care (VBHC) decisions in Localized Prostate Cancer Treatments: A single institution experience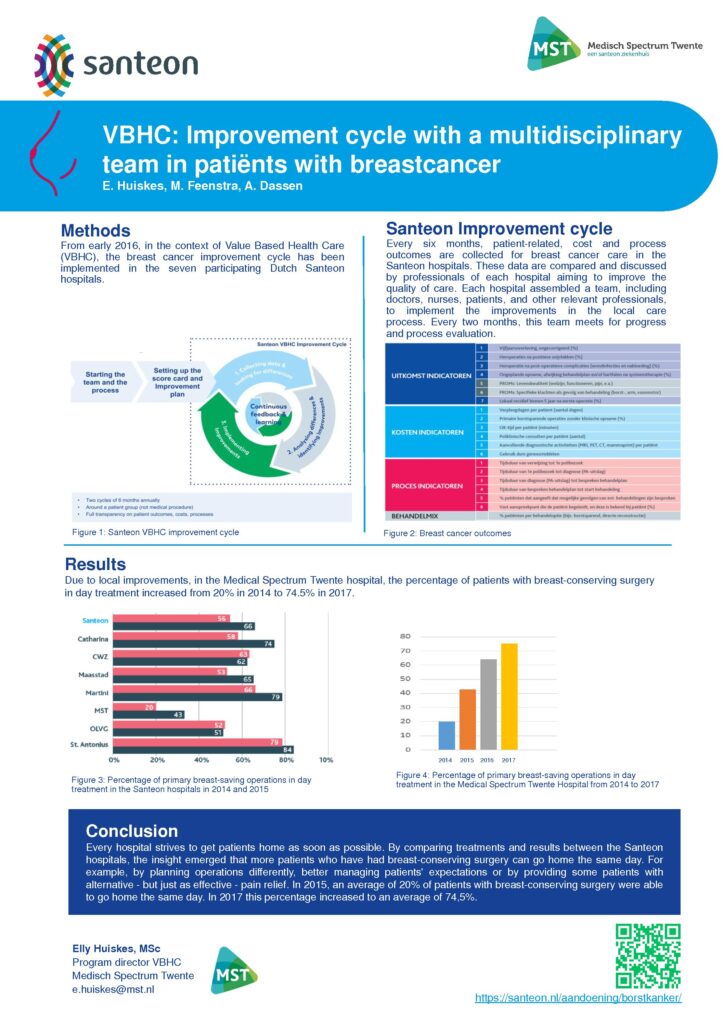 VBHC: Improvement cycle with a multidisciplinary team in patiënts with breastcancer
The IMPACT of a referral strategy for axial spondyloarthritis: 12 months follow-up of patient reported outcomes – Department of Rheumatology and Clinical Immunology, Maasstad hospital
Developing and validating measures of patient safety at transitions of care – Imperial College London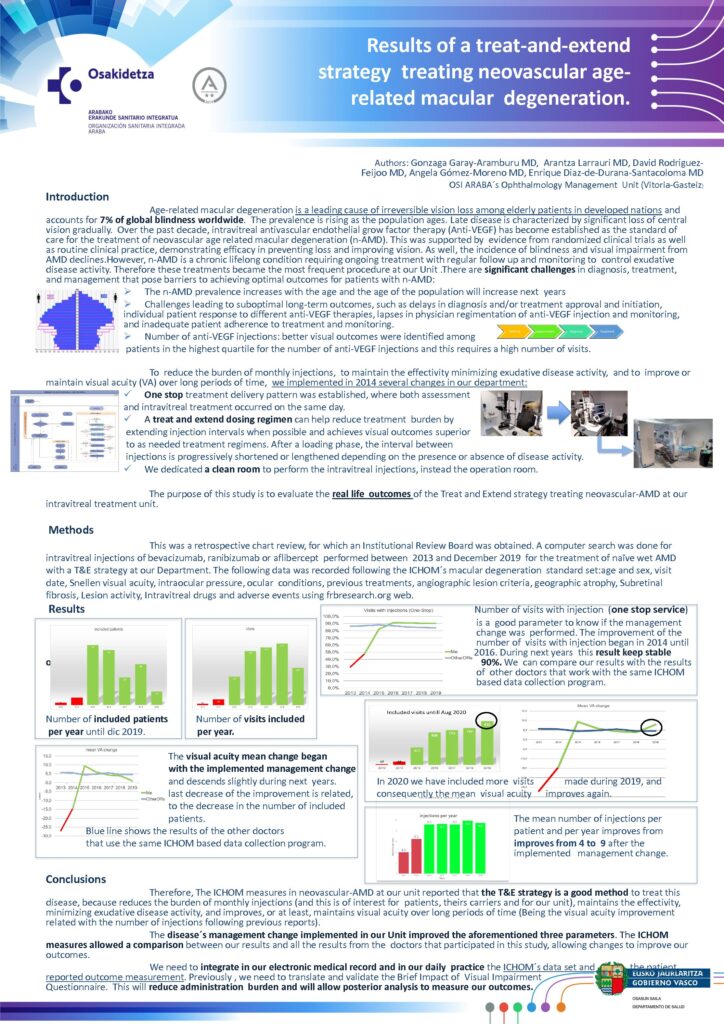 Results of a treat-and-extend strategy treating neovascular age-related macular degeneration – OSI ARABA (OSAKIDETZA)
View abstract
Patient Reported Outcomes (PRO) after Robotic Radical Prostatectomy (RRP)- Improving Patient Counselling and Shared Decision Making
PROMoting Quality – A Cross-Sector implementation of patient-reported outcomes to improve care quality in elective orthopaedic surgery – [1] heartbeat medical, [2] Technical University of Berlin
Five Years Experience with Value-Based Quality Improvement: Key Factors to Successful Implementation in Hospital Care – St. Antonius Hospital
Value Based Cardiac Care in the Netherlands: bundled payment – The Netherlands Heart Registry
The development of a national PRO diabetes tool for value based diabetes care in Denmark
Patient and Clinical Relevant Outcomes in Rheumatoid Arthritis Patients; Experience from Daily Practice – Maasstad Hospital, Rotterdam
VBHC implementation in Breast Cancer: 1 year of implementation – Cruces University Hospital/IHO Ezkerraldea Enkarterri Cruces
Joint Value initiative: A (digital) patient-centered integrated practice unit creating and delivering lifelong value for inflammatory arthritis – Maasstad Hospital
A value-based steering model for social and healthcare – Nordic Healthcare Group
Developing an online Patient Decision Aid to support Shared Decision-Making with outcome information for treatment modality decisions in Advanced Kidney Disease
FARMALARM-App, a patient communication tool improves Patient Reported Outcomes – Hospital Vall d'Hebron
A Value Based Healthcare approach for Knee Osteoarthritis (OA)
VBHC: To reduce delivery times for prostate cancer patients – Medisch Spectrum Twente
Perspectives of online outcome transparency in stroke care
Data challenges for the implementation of the Pregnancy & Childbirth Set
Digital Acquisition of Patient Reported Outcome Measures (PROMs) in Elderly Patients – a special Challenge? – University Hospital Basel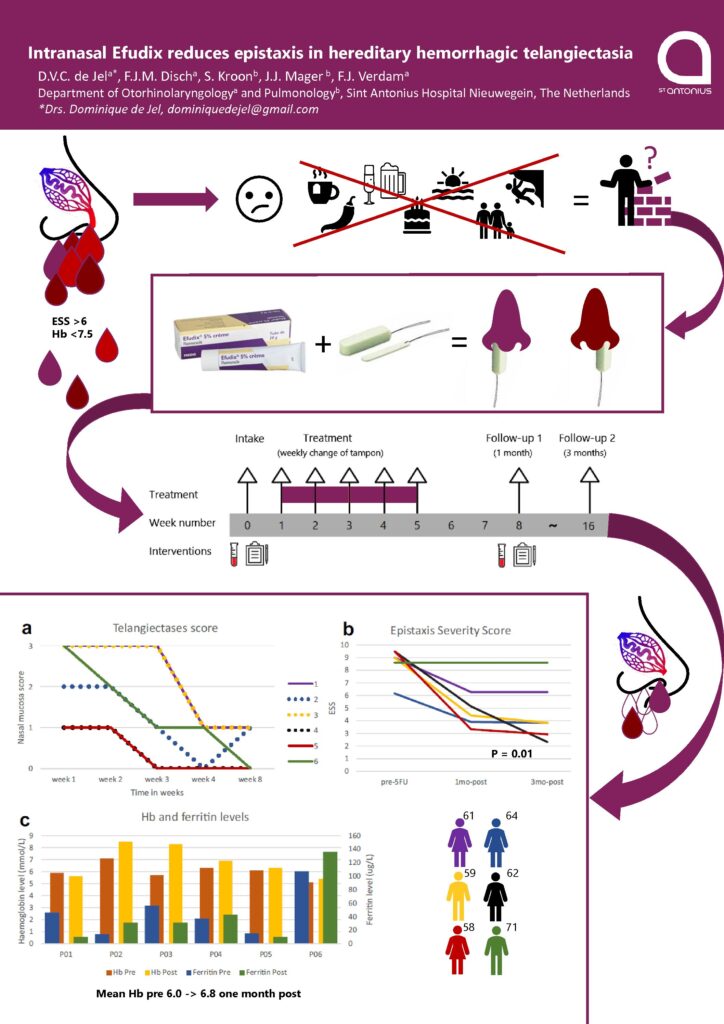 Intranasal Efudix reduces epistaxis in hereditary hemorrhagic telangiectasia
View abstract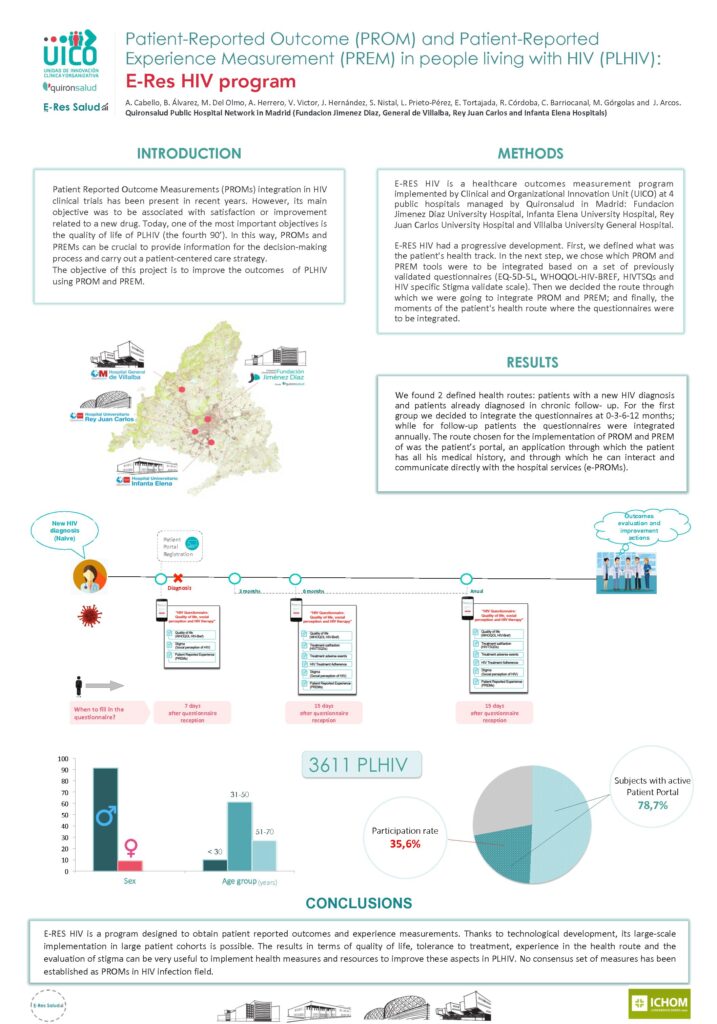 Patient-Reported Outcome (PROM) and Patient-Reported Experience Measurement (PREM) in people living with HIV (PLHIV)
Standard Set for community sepsis- variables of the sepsis protocol and mortality rate contributing to its implementation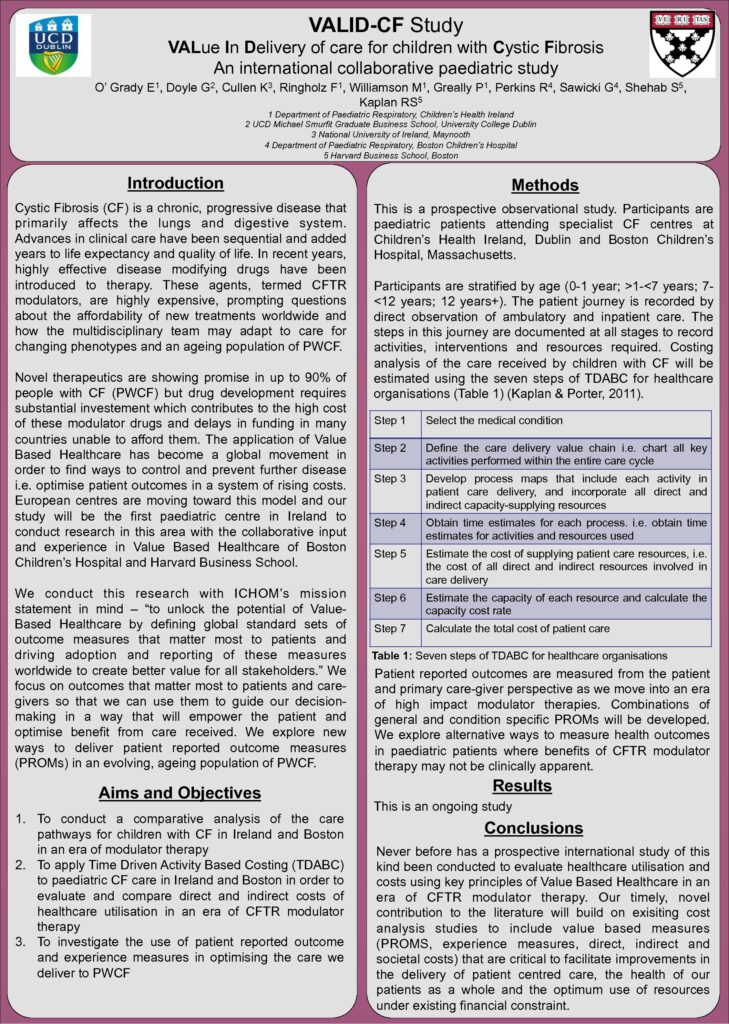 VALID-CF Study VALue In Delivery of care for children with Cystic Fibrosis An international collaborative paediatric study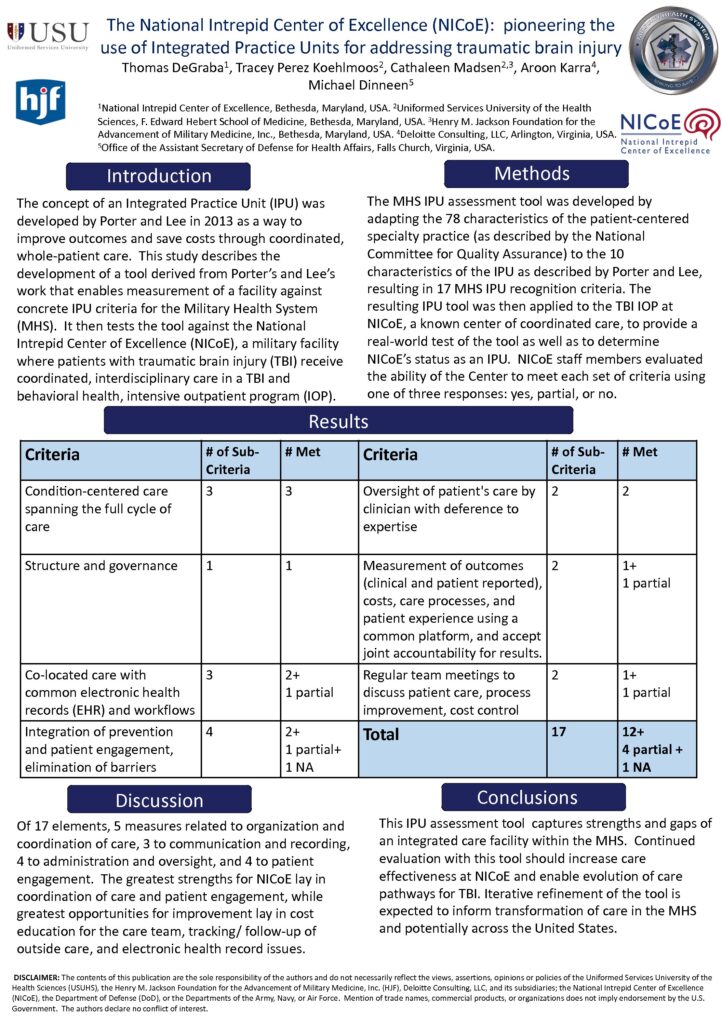 The National Intrepid Center of Excellence (NICoE): pioneering the use of Integrated Practice Units for addressing traumatic brain injury – Defense Health Agency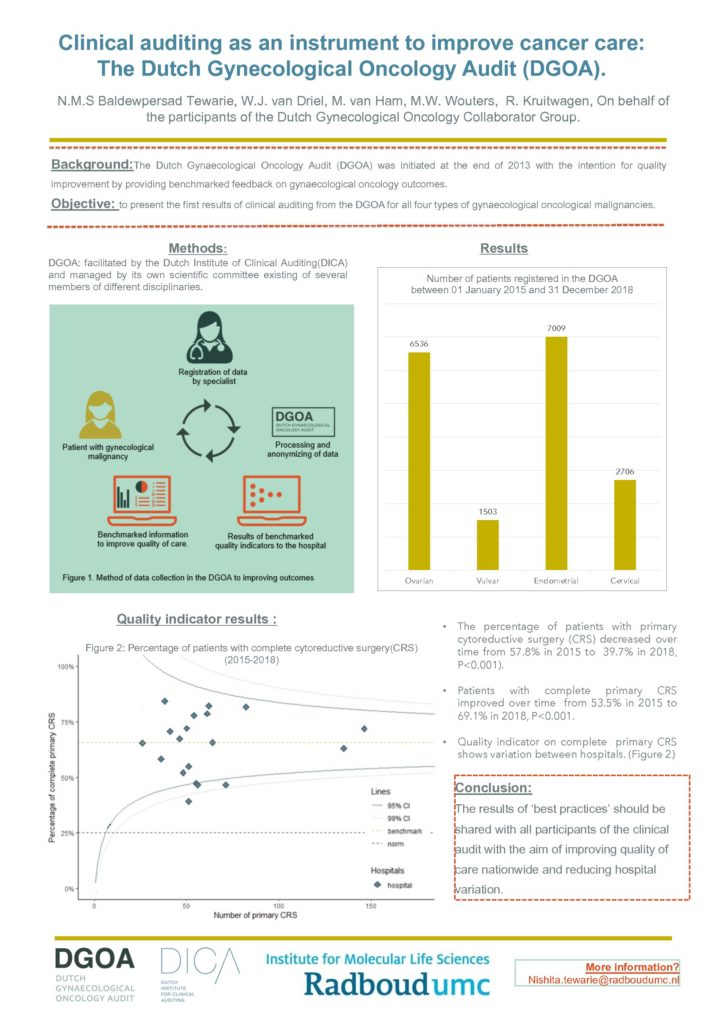 Clinical auditing as an instrument to improve outcomes of patients with ovarian cancer: The Dutch Gynecological Oncology Audit (DGOA) – Dutch Institute of Clinical Auditing (DICA), Leiden, The Netherlands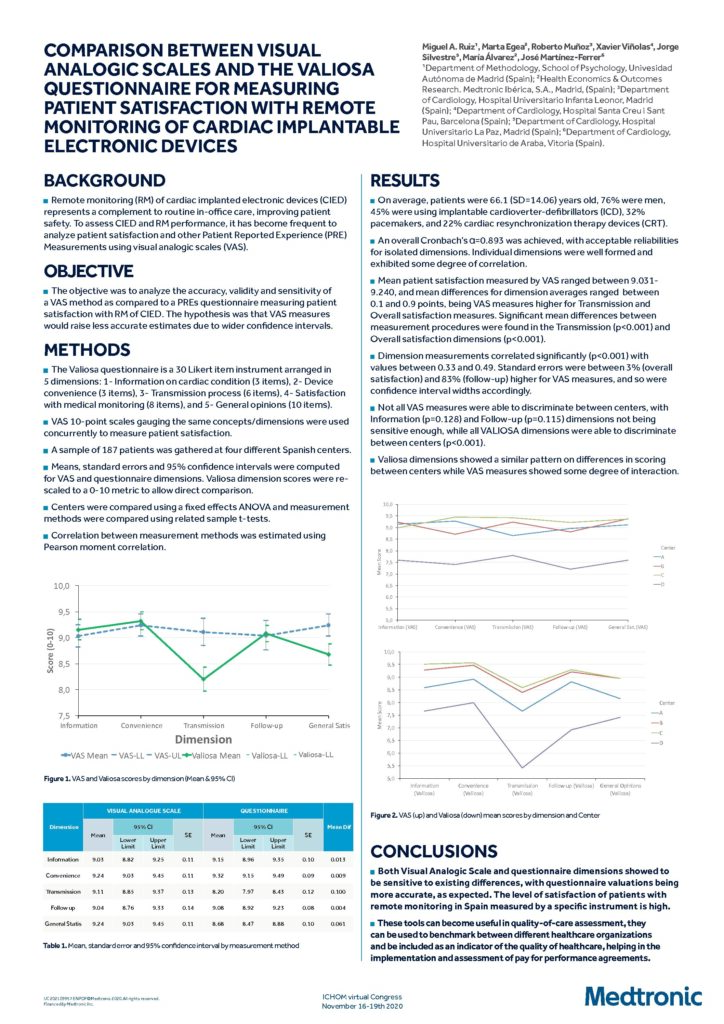 Comparison between visual analogic scales and the Valiosa questionnaire for measuring Patient satisfaction with remote monitoring of cardiac implantable electronic devices – Medtronic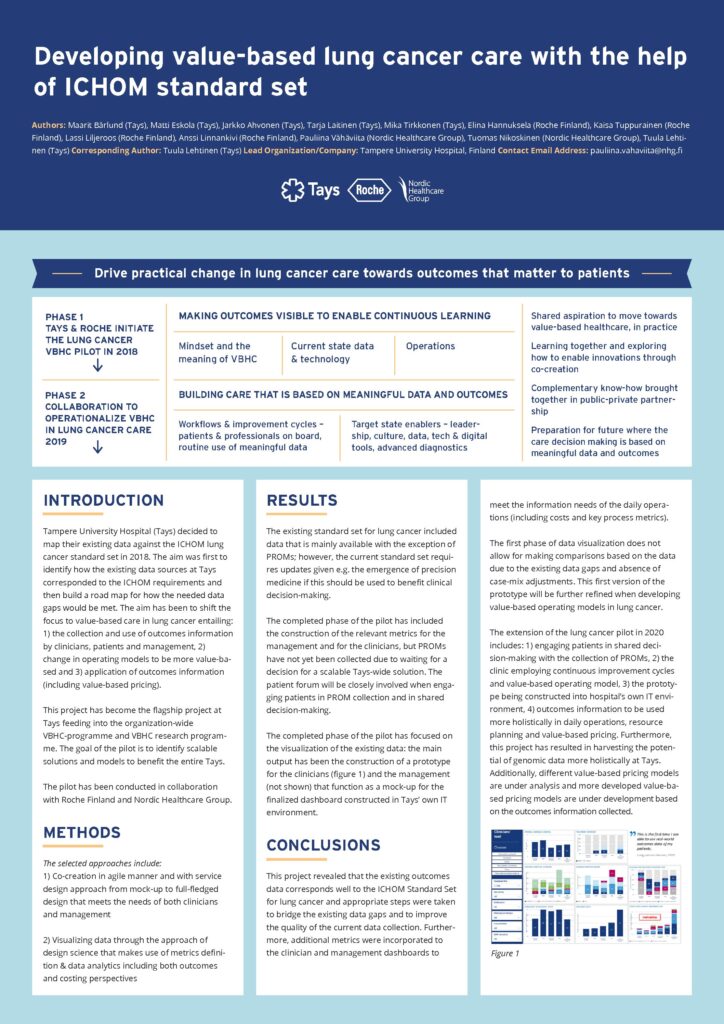 Developing value-based lung cancer care with the help of ICHOM standard set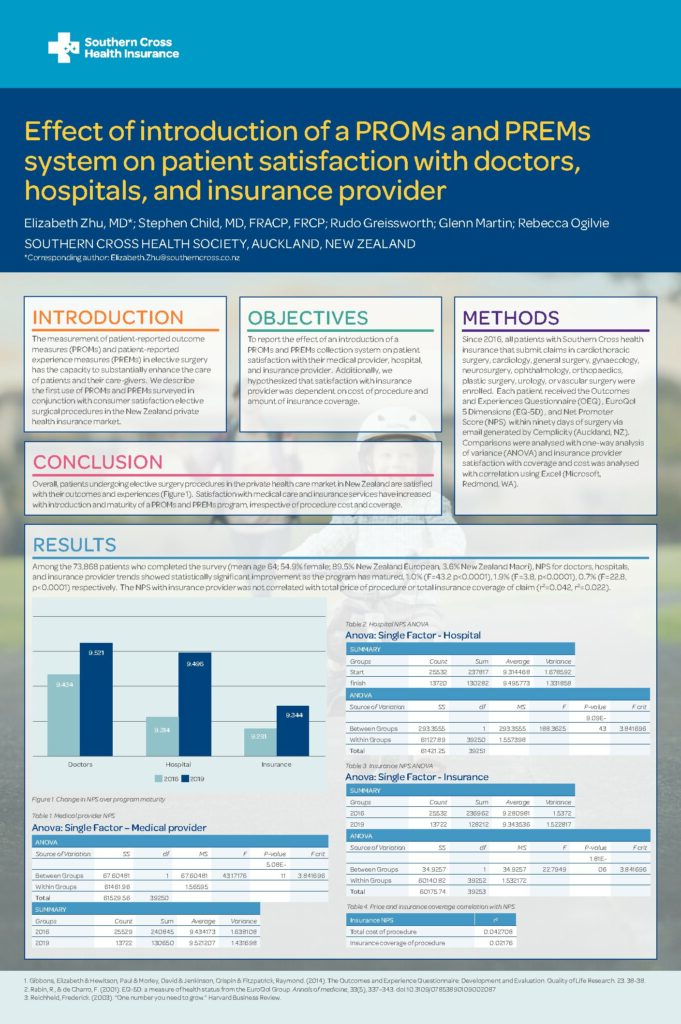 Effect of introduction of a PROMs and PREMs system on patient satisfaction with doctors, hospitals, and insurance provider – Southern Cross Health Society
Definition of results value based through the International Consortium for Health Outcomes Measurement (ICHOM) in a reference hospital in southern Brazil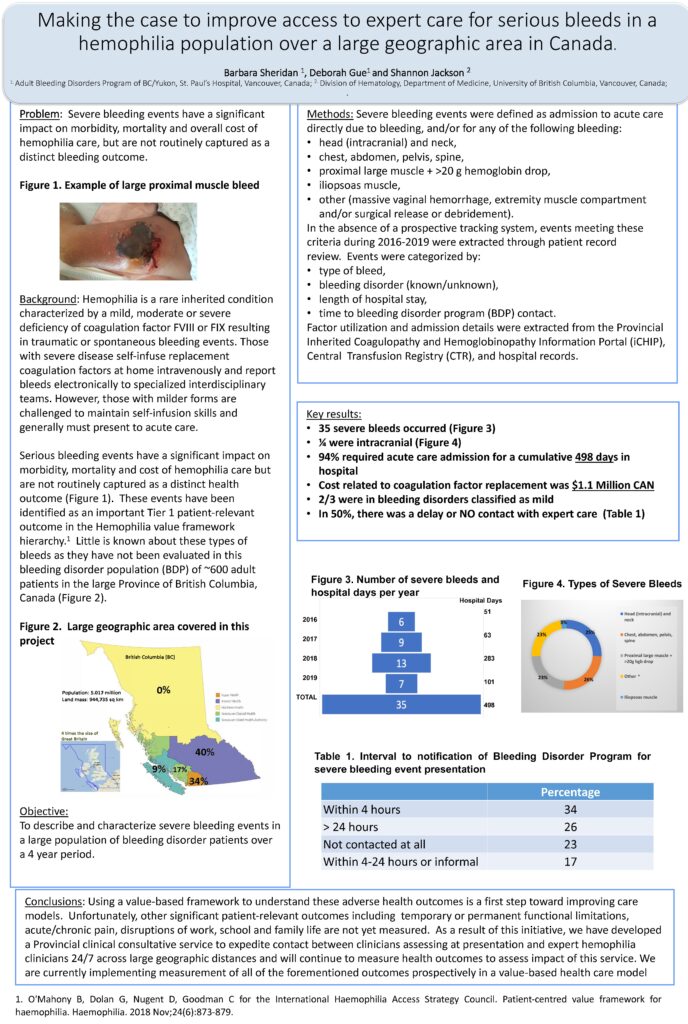 Making the case to improve access to expert care for serious bleeds in a hemophilia population over a large geographic area in Canada. – Providence Health Care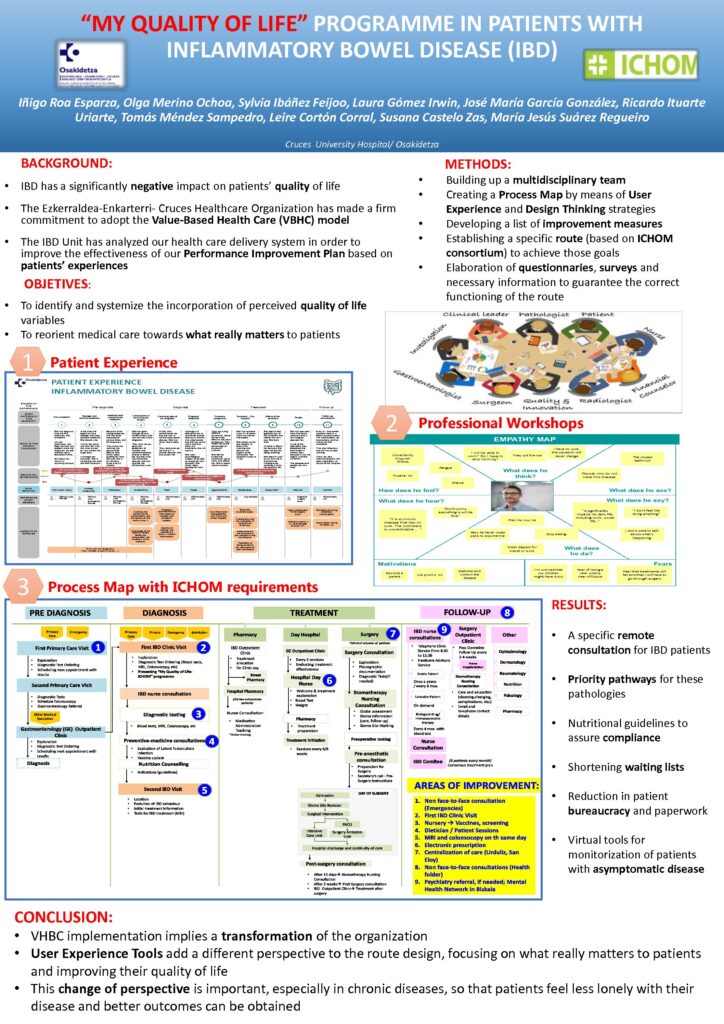 MY QUALITY OF LIFE" PROGRAMME IN PATIENTS WITH INFLAMMATORY BOWEL DISEASE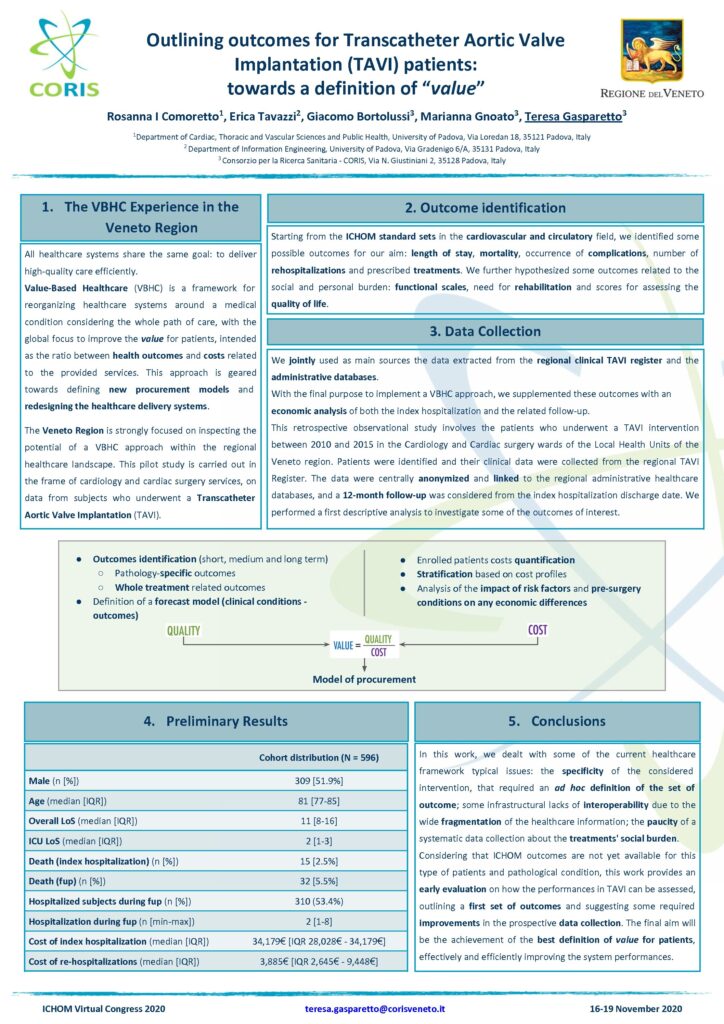 Outlining outcomes for Transcatheter Aortic Valve Implantation (TAVI) patients: towards a definition of "value"
Patient Reported Outcomes (PROs) in patients with breast cancer: a single institution analysis – Hospital Moinhos de Vento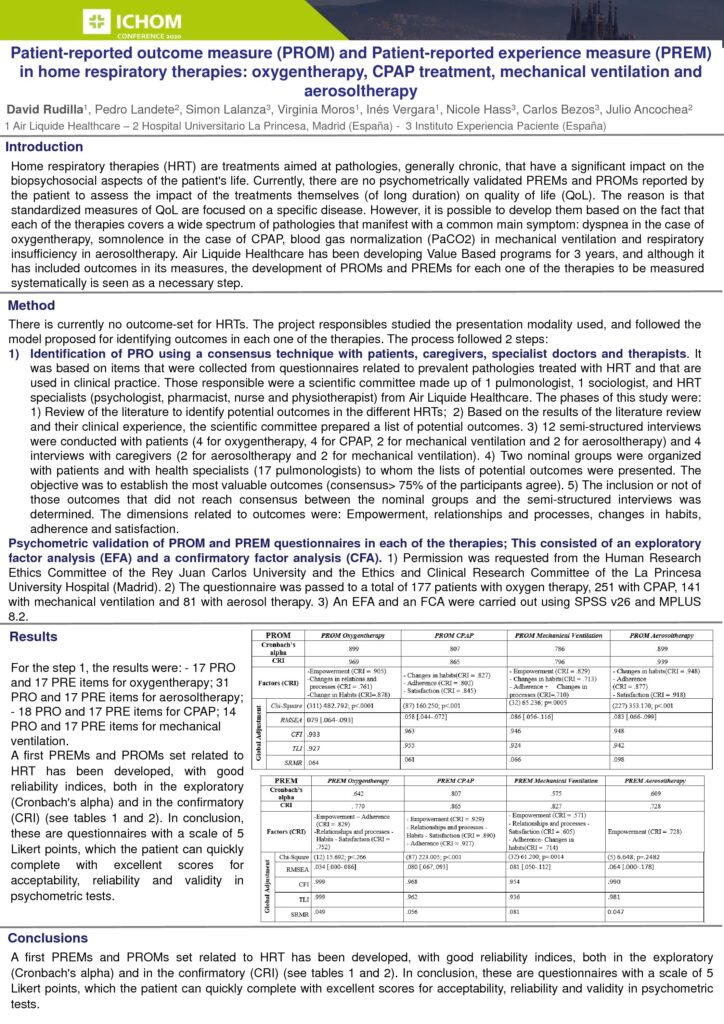 Patient-reported outcome measure (PROM) and Patient-reported experience measure (PREM) in home respiratory therapies: oxygen therapy, CPAP treatment, mechanical ventilation and aerosol therapy – Air Liquide Healthcare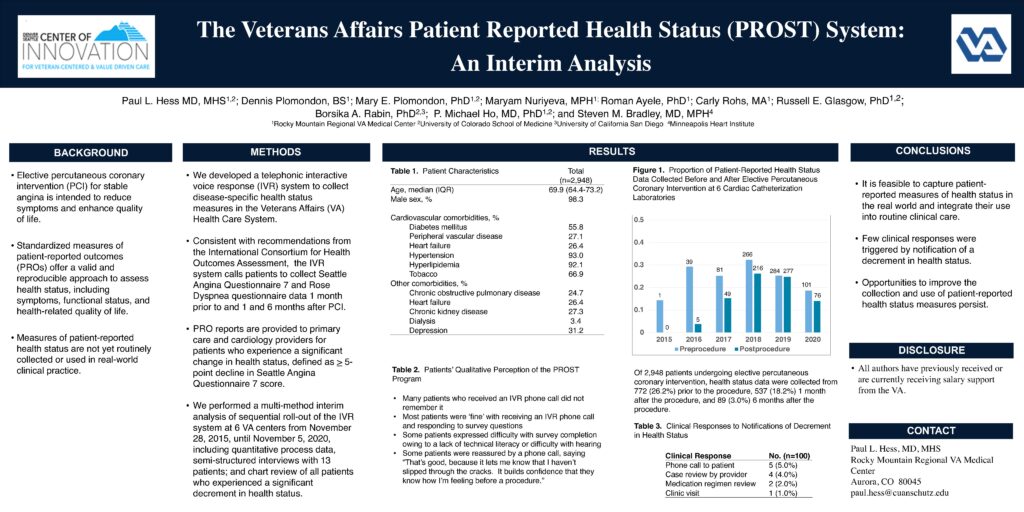 The Veterans Affairs Patient Reported Health Status (PROST) System: An Interim Analysis – VA Eastern Colorado Health Care System, Aurora, CO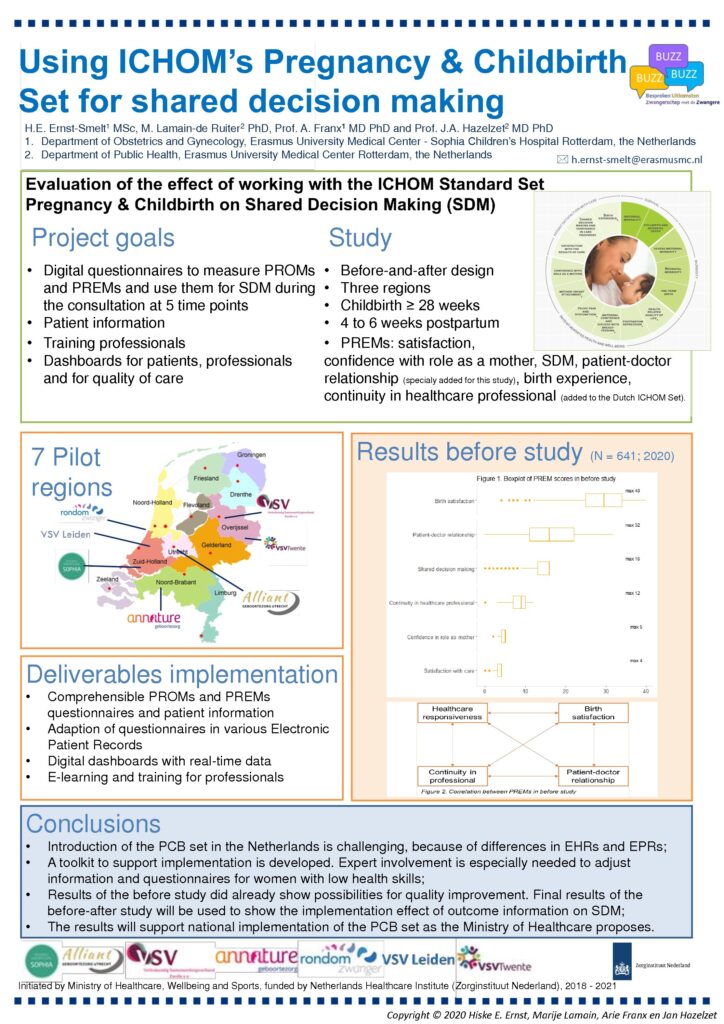 Using ICHOM's Pregnancy & Childbirth Set for shared decision making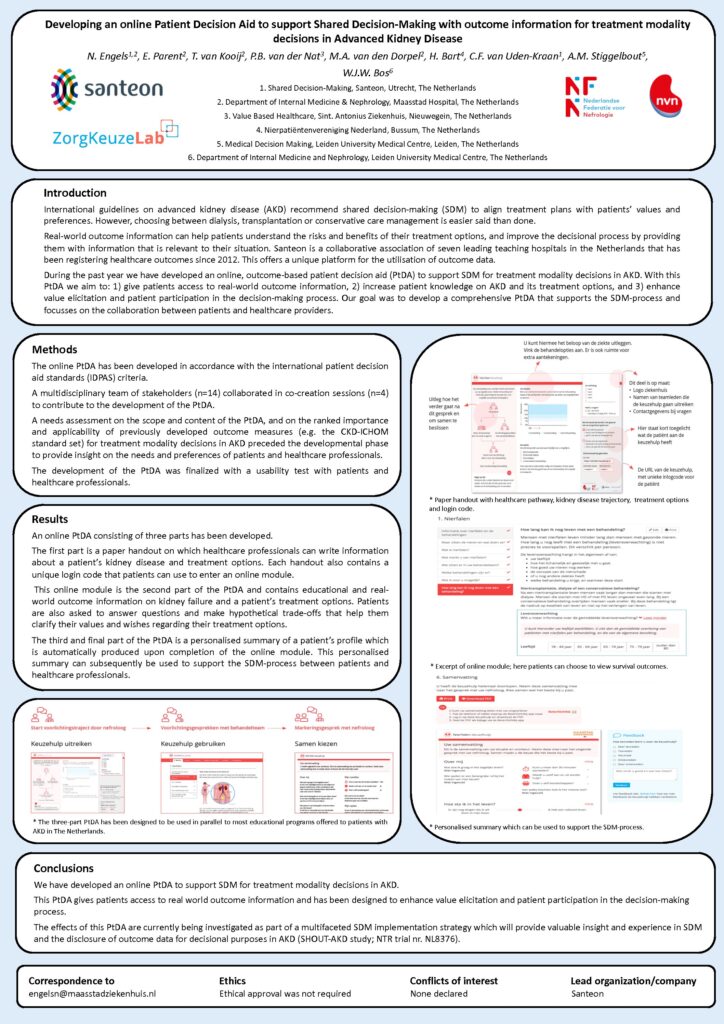 Developing an online Patient Decision Aid to support Shared Decision Making with outcome information for treatment modality decisions in Advanced Kidney Disease. – Santeon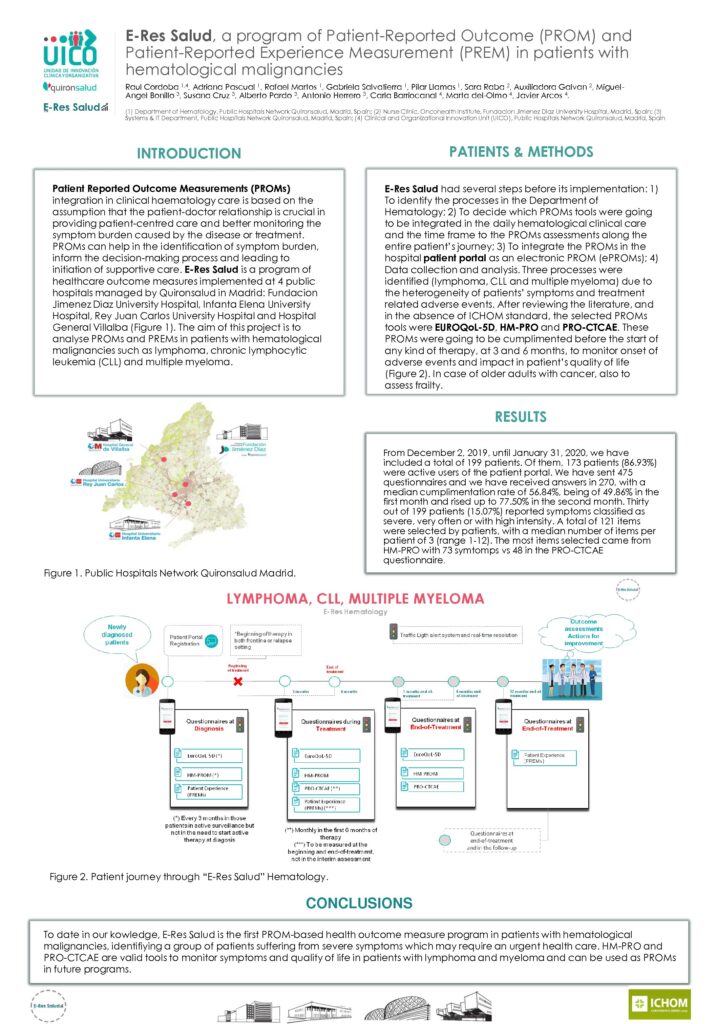 E-Res Salud, a program of Patient-Reported Outcome (PROM) and Patient-Reported Experience Measurement (PREM) in patients with hematological malignancies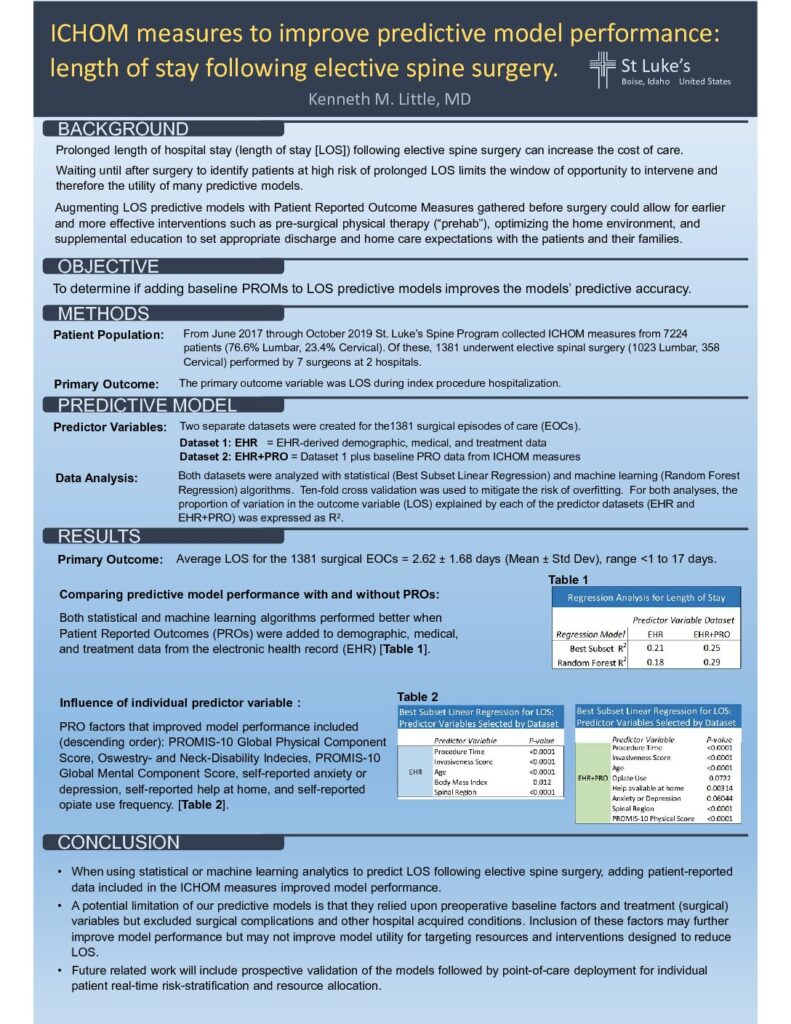 ICHOM measures to improve predictive model performance: length of stay following spine surgery. – St. Luke's Health System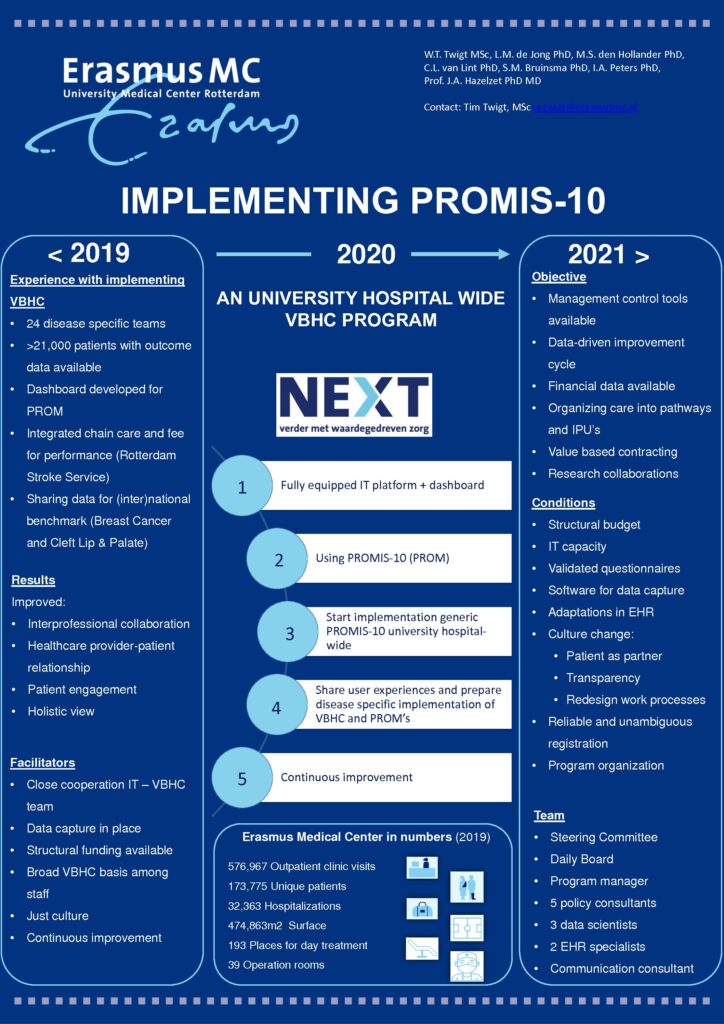 IMPLEMENTING ICHOM ADULT OVERALL HEALTH SET: IMPLEMENTING ICHOM ADULT OVERALL HEALTH SET – Erasmus MC
Outcome Measurement in Mental Health and Addiction Treatment – SunCloud Health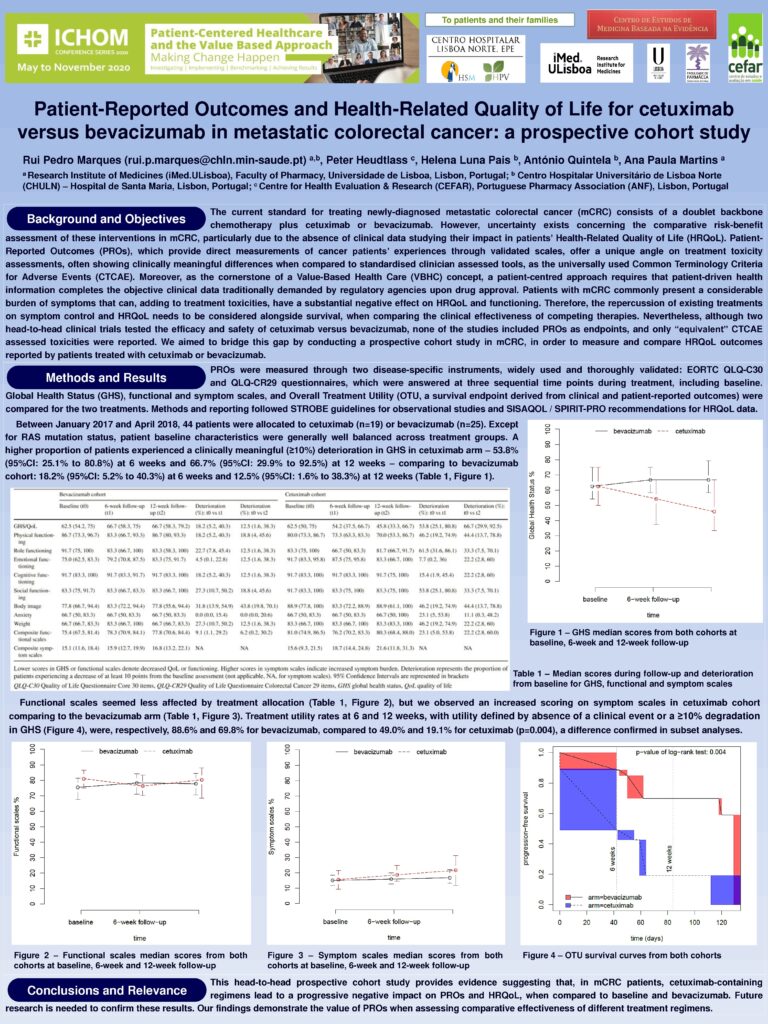 Patient-Reported Outcomes and Health-Related Quality of Life for cetuximab versus bevacizumab in metastatic colorectal cancer: a prospective cohort study – Research Institute of Medicines (iMed.ULisboa), Faculty of Pharmacy, Universidade de Lisboa, Lisbon, Portugal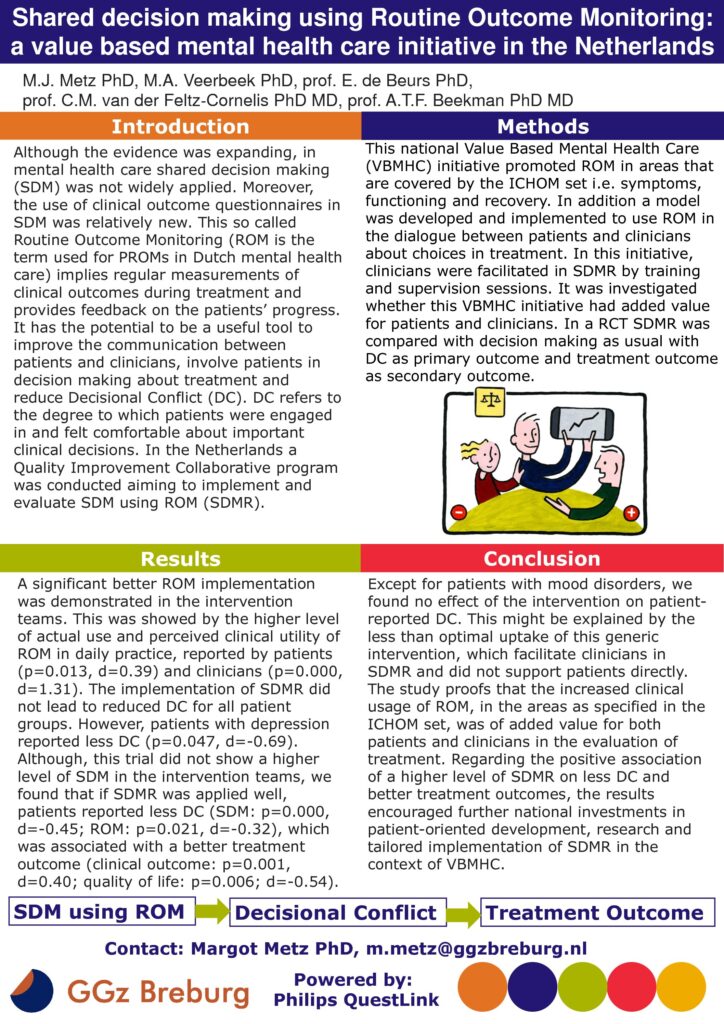 Shared decision making using Routine Outcome Monitoring: a value based mental health care initiative in the Netherlands – GGz Breburg, Tilburg, The Netherlands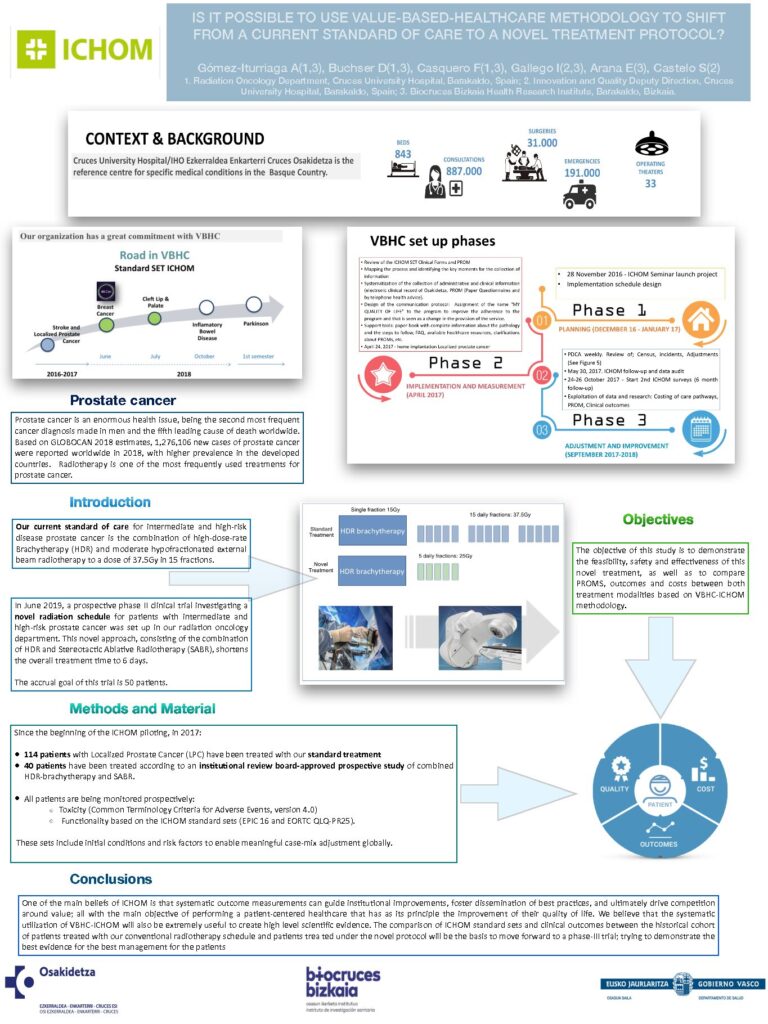 IS IT POSSIBLE TO USE VALUE-BASED-HEALTHCARE METHODOLOGY TO SHIFT FROM A CURRENT STANDARD OF CARE TO A NOVEL TREATMENT PROTOCOL?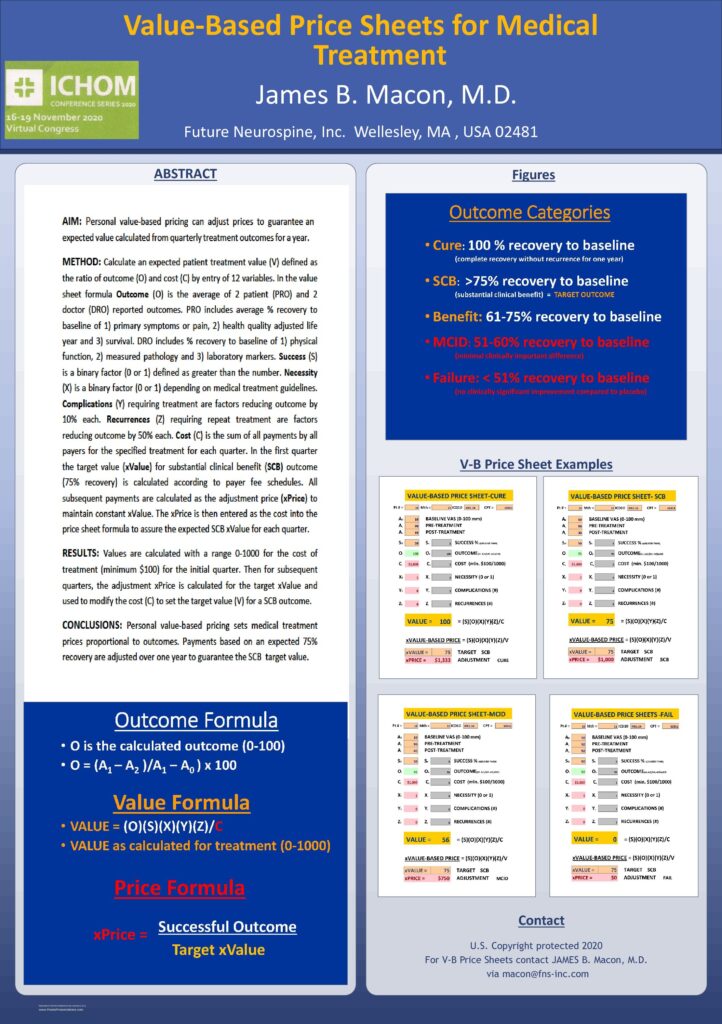 VALUE-BASED PRICE SHEETS FOR MEDICAL TREATMENT – FUTURE NEUROSPINE, INC.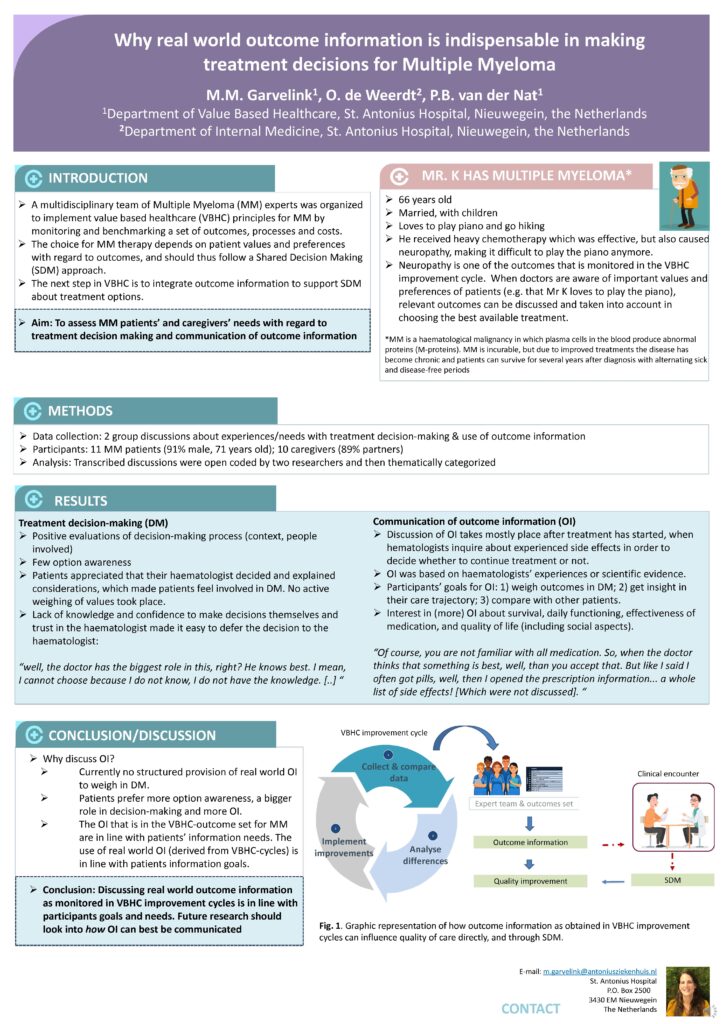 Why the presentation of outcome information is indispensable in making treatment decisions for Multiple Myeloma – St. Antonius Hospital, Nieuwegein, the Netherlands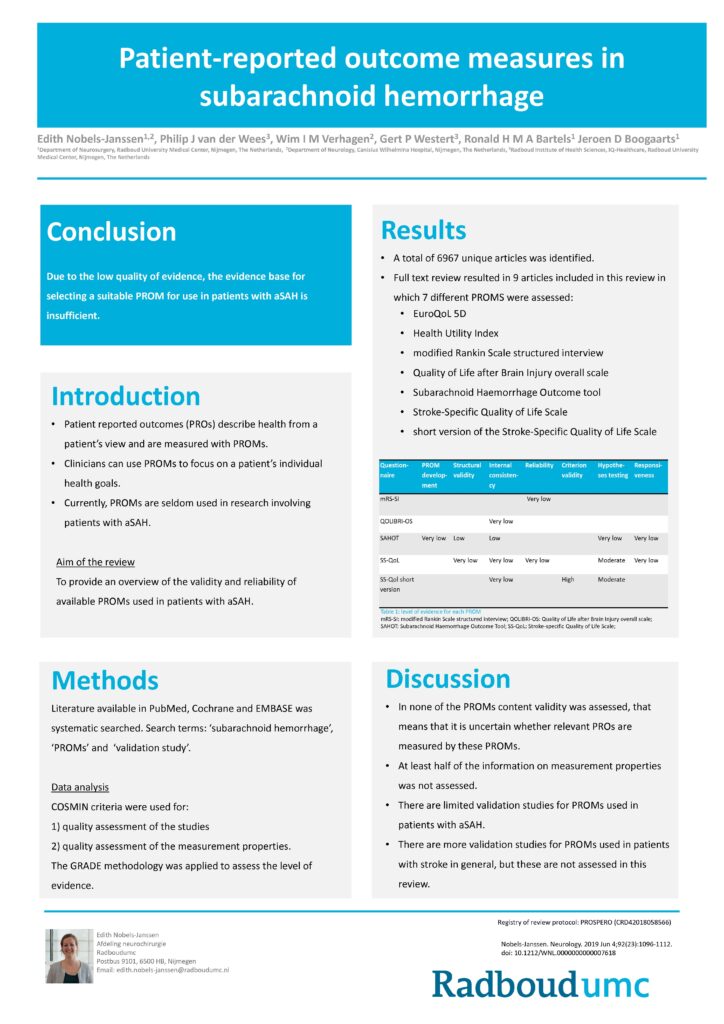 Patient-reported outcome measures in subarachnoid hemorrhage – Radboud university medical center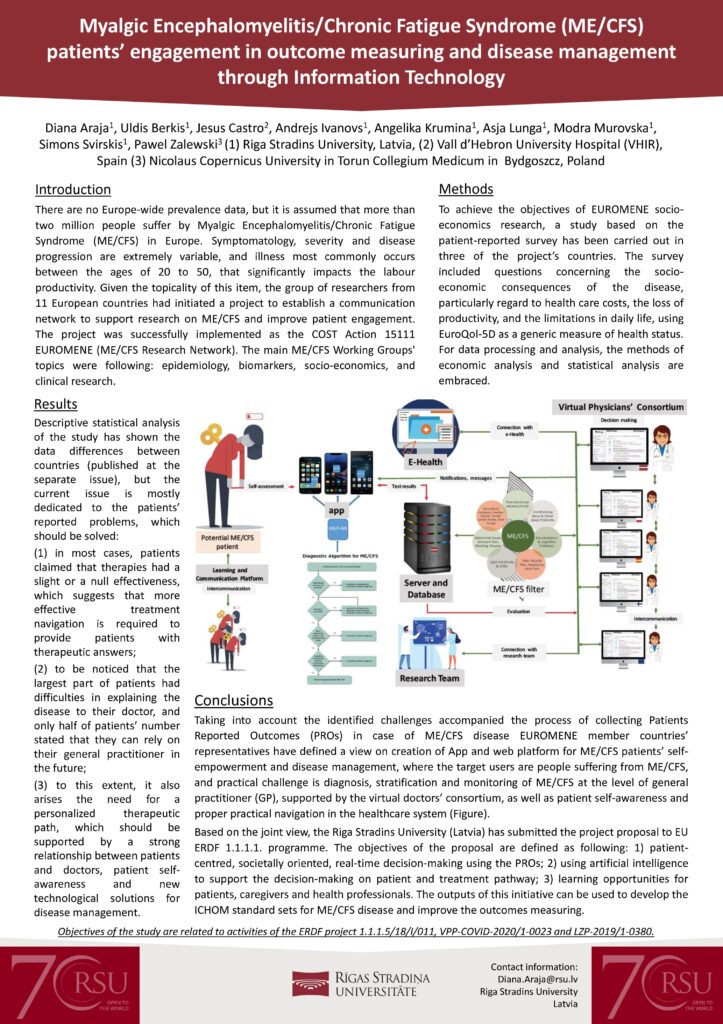 Myalgic Encephalomyelitis/Chronic Fatigue Syndrome (ME/CFS) patients' engagement in outcome measuring and disease management through Information Technology – Riga Stradins University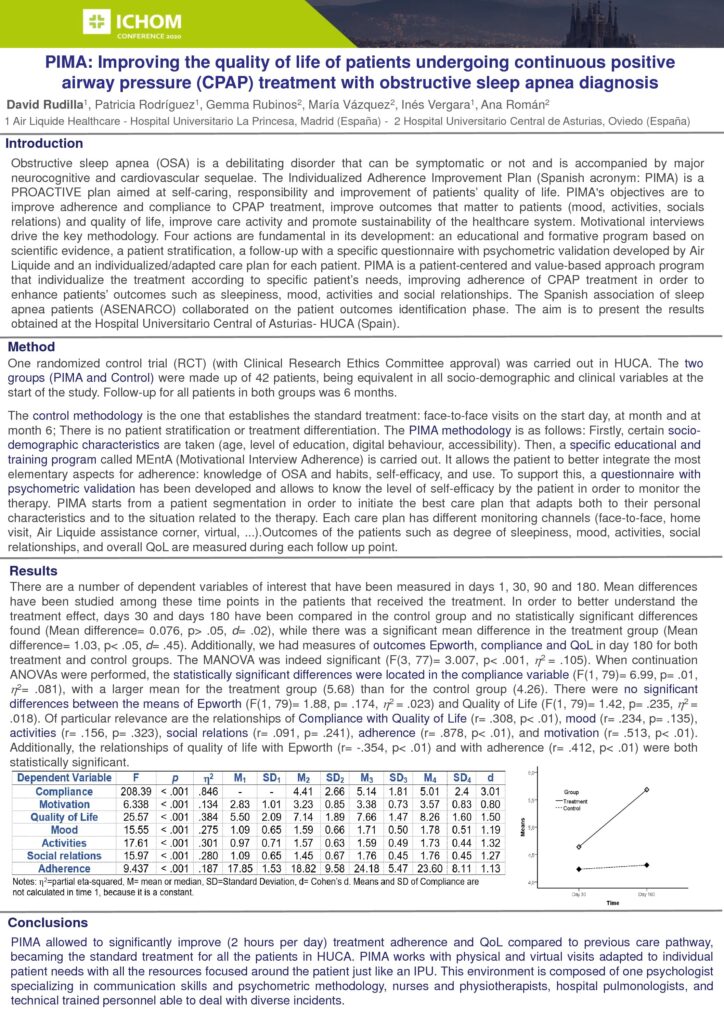 PIMA: Improving the quality of life of patients undergoing continuous positive airway pressure (CPAP) treatment with obstructive sleep apnea diagnosis. – Air Liquide Healthcare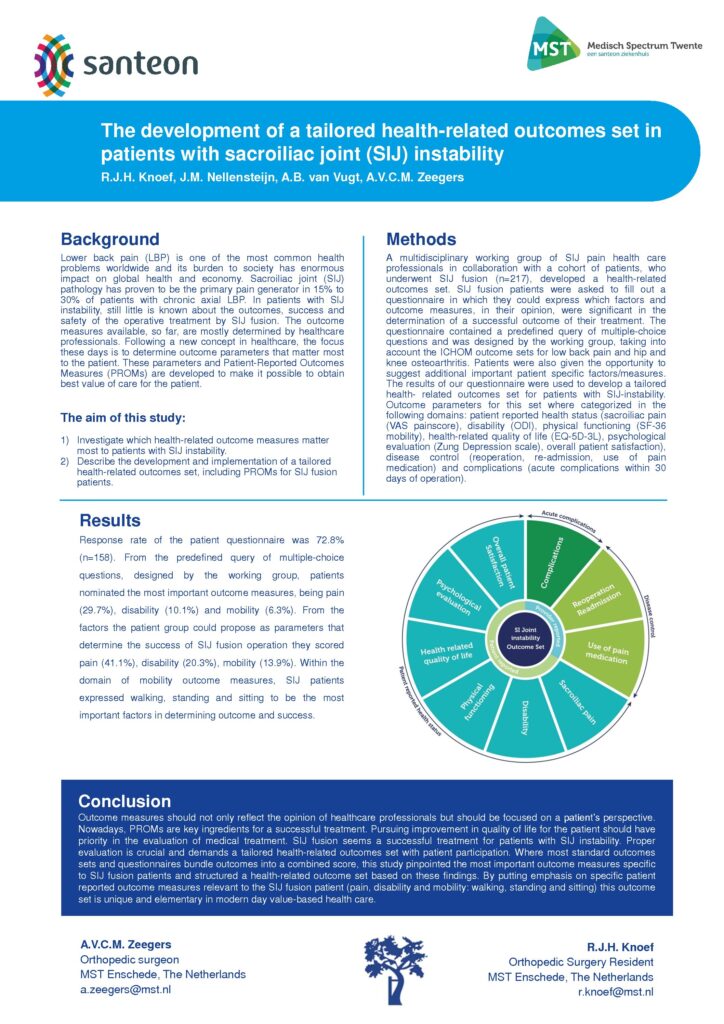 The development of a tailored health-related outcomes set in patients with sacroiliac joint (SIJ) instability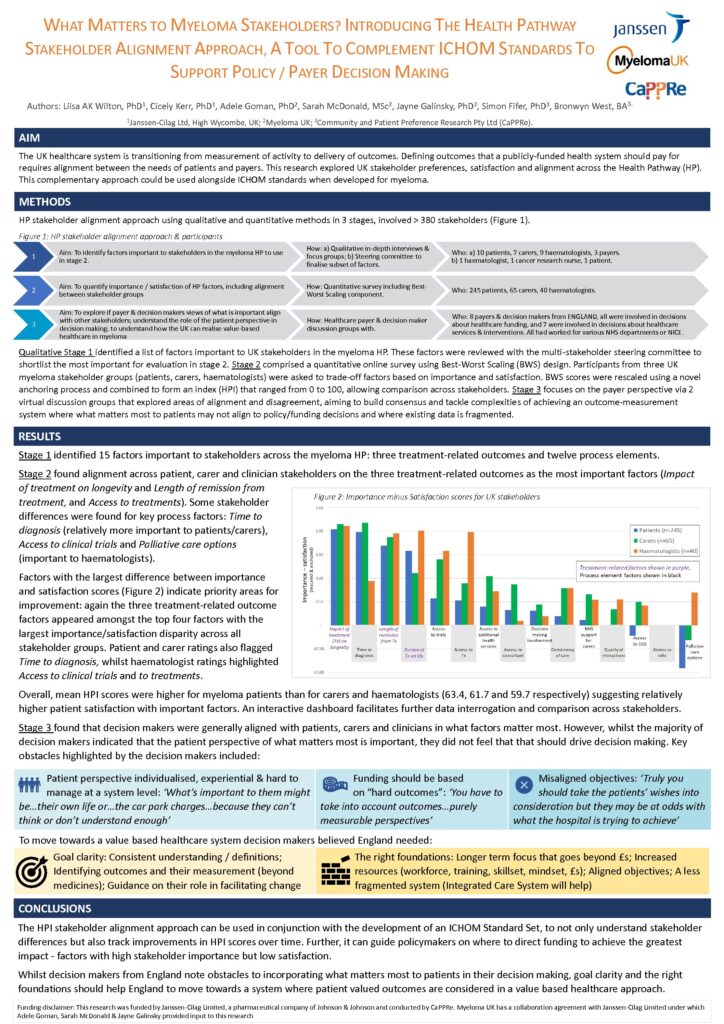 What matters to myeloma stakeholders? Introducing the health pathway stakeholder alignment approach, a tool to complement ICHOM standards to support policy / payer decision making – Janssen-Cilag Ltd, High Wycombe, UK
Bringing Value Based Healthcare to a Mental Health Pathway Taylor et al. ICHOM 2020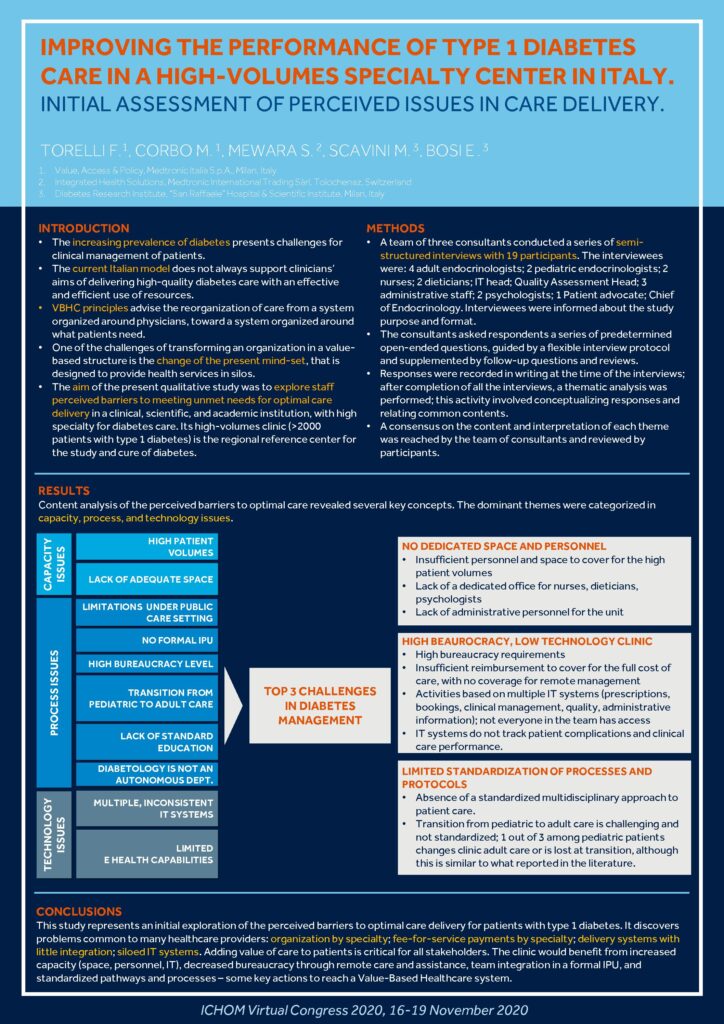 Improving the performance of type 1 diabetes care in a high-volumes specialty center in Italy. Initial assessment of perceived issues in care delivery. – Medtronic Italia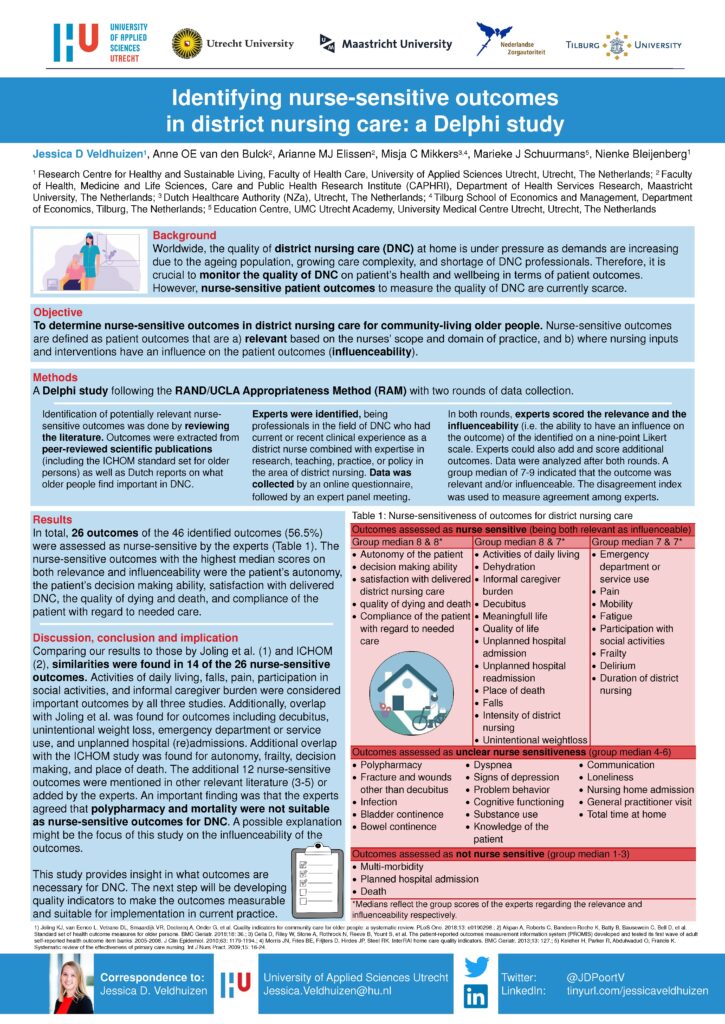 Identifying nurse-sensitive outcomes in district nursing care: a Delphi study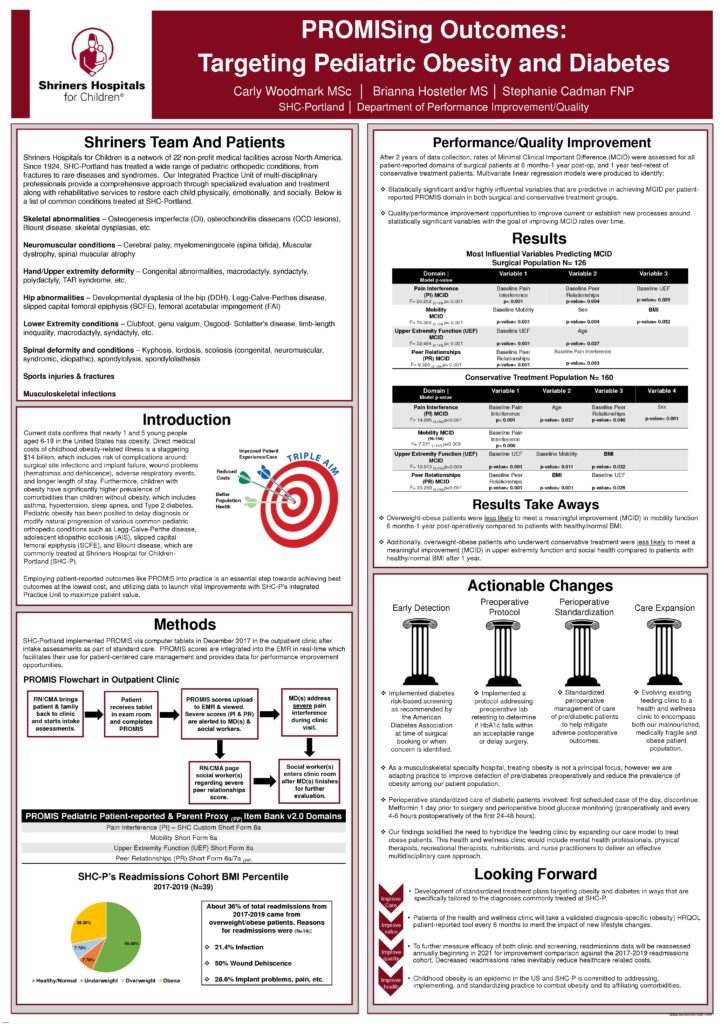 PROMISing Outcomes: Targeting Pediatric Obesity and Diabetes – Shriners Hospital for Children- Portland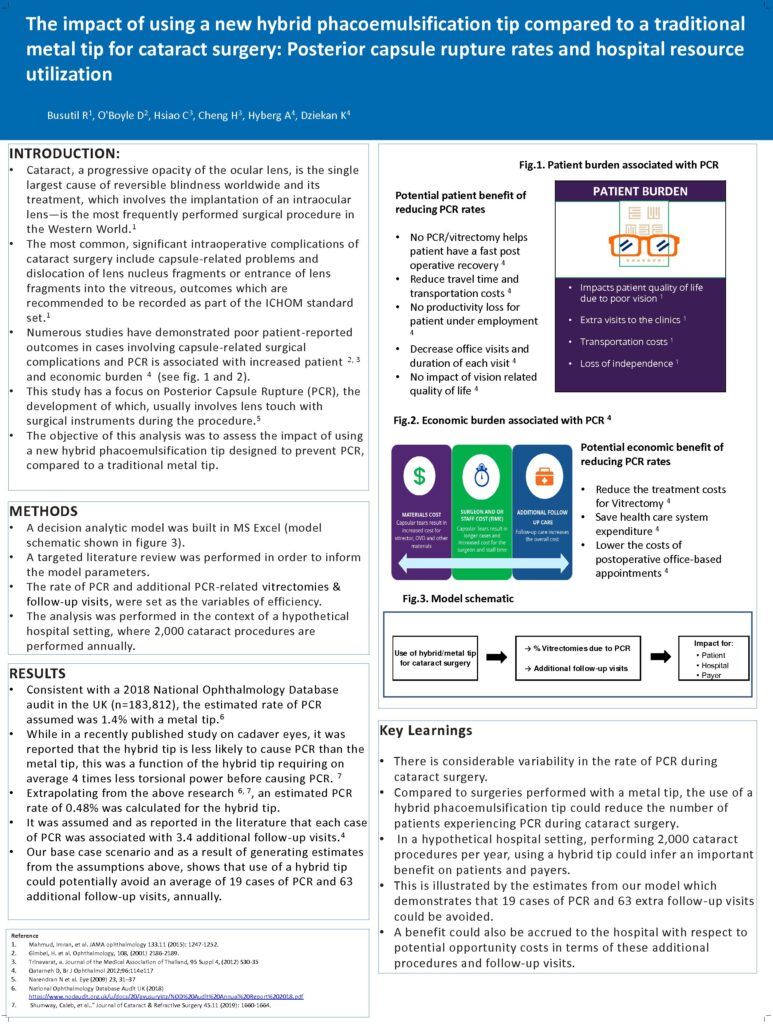 The impact of using a new hybrid phacoemulsification tip compared to a traditional metal tip for cataract surgery: Posterior capsule rupture rates and hospital resource utilization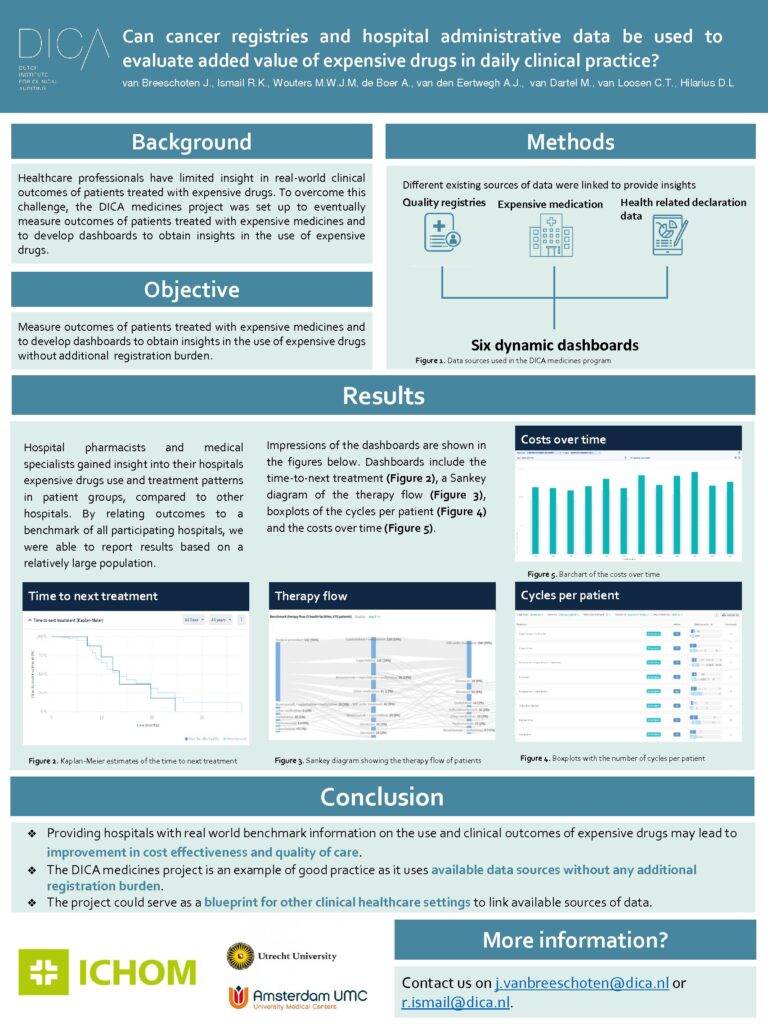 Can cancer registries and hospital administrative data be used to evaluate added value of expensive drugs in daily clinical practice?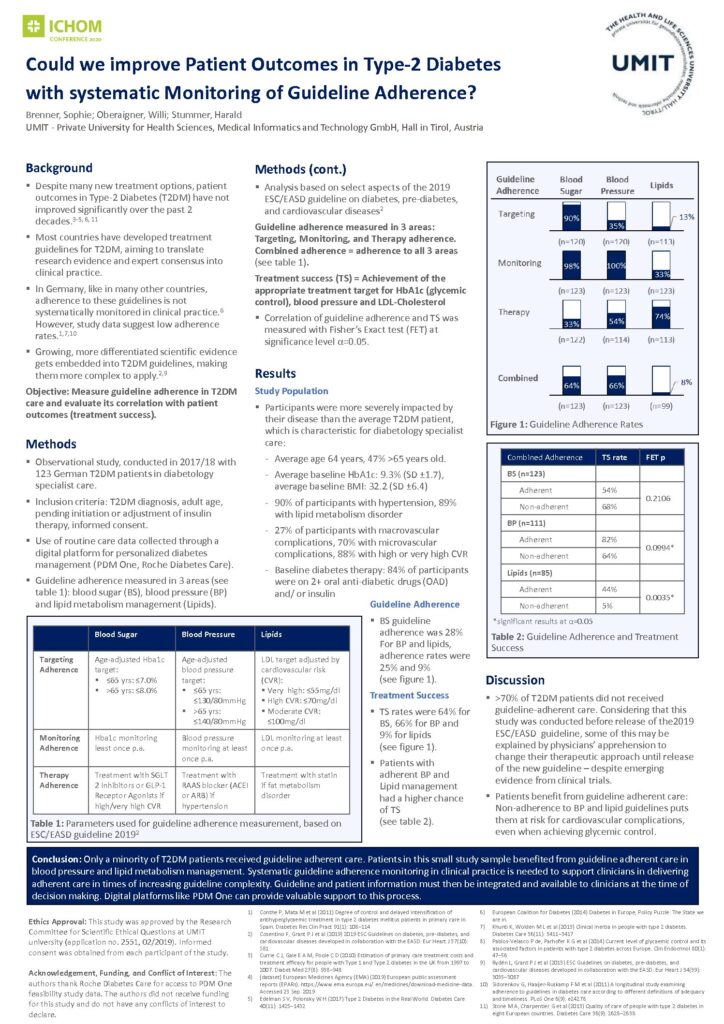 Could we improve Patient Outcomes in Type-2 Diabetes with systematic Monitoring of Guideline Adherence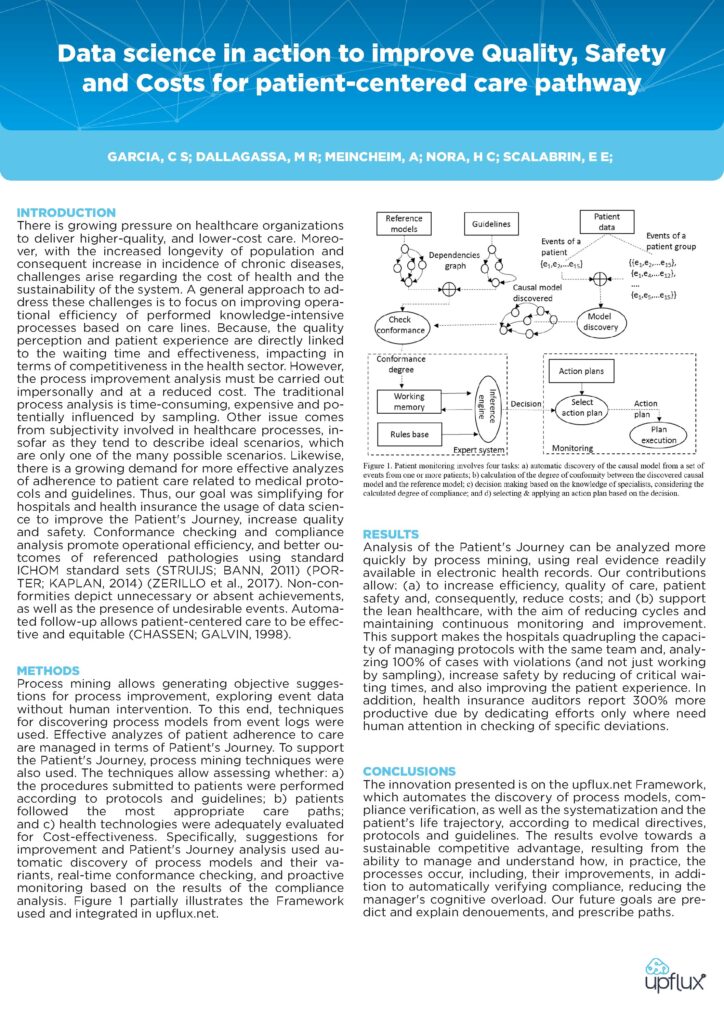 Data science in action to improve Quality, Safety and Costs for patient-centered care pathway – UpFlux
View abstract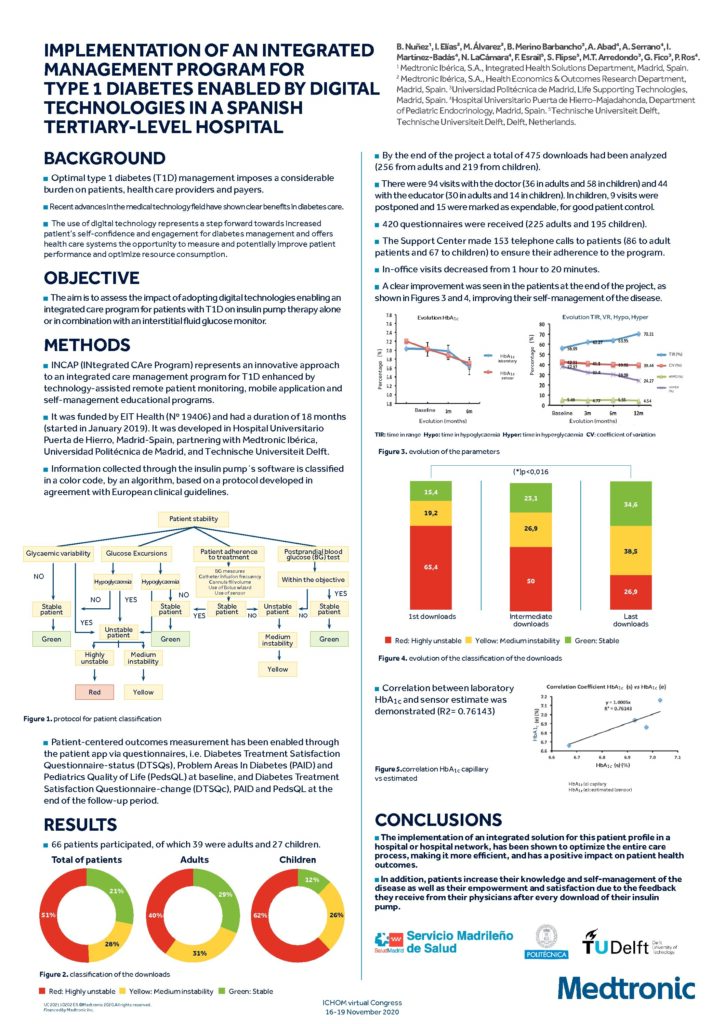 IMPLEMENTATION OF AN INTEGRATED MANAGEMENT PROGRAM FOR TYPE 1 DIABETES ENABLED BY DIGITAL TECHNOLOGIES IN A SPANISH TERTIARY-LEVEL HOSPITAL – Medtronic Ibérica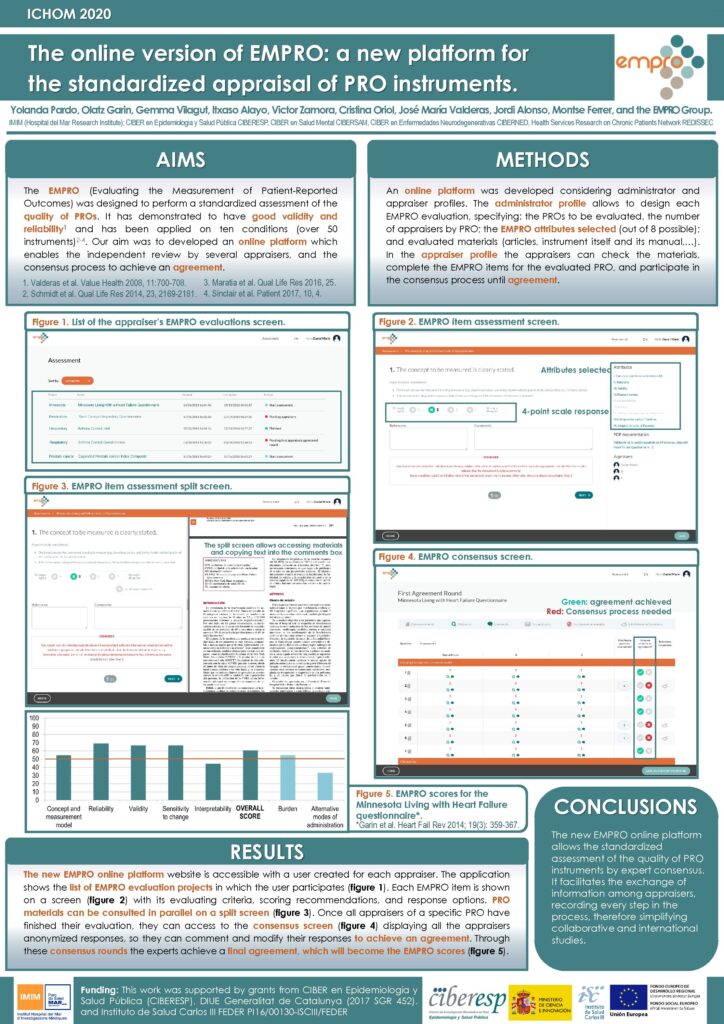 The online version of EMPRO: a new platform for the standardized appraisal of PRO instruments.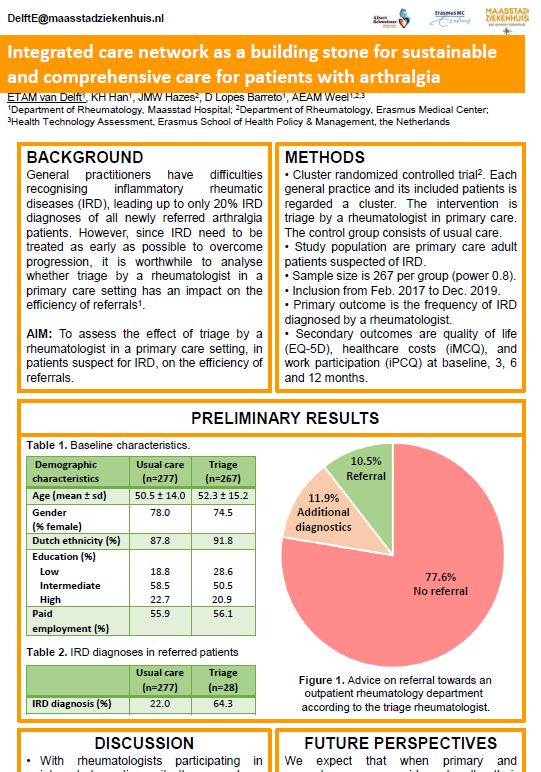 Integrated care network as a building stone for sustainable and comprehensive care for patients with arthralgia – Maasstad hospital, Department of Rheumatology
View abstract